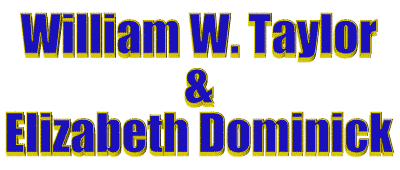 William W. Taylor was born in Ireland, probably in the county of Armagh in the Protestant North, in about 1797, He emigrated to the US and ended up in Newberry County, South Carolina before 1815. Family tradition says that he came when he was age 11. This would be in about 1808. He became a naturalized citizen in October of 1822.
He married Elizabeth Dominick, the daughter of a prominent local resident Henry Dominick, a revolutionary war veteran of German ancestry. Her mother was Margaret Fellers, daughter of an immigrant from Germany. They lived in the Stoney Battery section of Newberry County near what is now Prosperity, South Carolina.
William and Elizabeth had the following children:
Elizabeth died around 1835, and William died in 1848. He apparently had been successful. The inventory of his estate included slaves and a good deal of land. Total value was estimated at over $3,000, a large sum for the time.
After William's death, a sort of "Taylor Triangle" was set up between Newberry County, SC; Dyer County, TN; and Columbia County, FL. Isabella, Noah, and Israel went to Dyer Co. In the 1850s. Robert, James, and Lavinia went to Columbia County. Anna and the descendants of George, who died before his father, stayed in Newberry Co. Noah later went to Bradford Co, FL near Columbia Co. Family members regularly traveled between those areas, even at a time when travel was difficult.

© 2002-2010 Miller Taylor. All Rights Reserved.