James A. Taylor married an Emily C. Nichols. They had 11 children: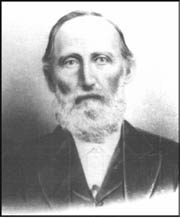 Henry D TAYLOR

Sarah Jane TAYLOR

Oscar A TAYLOR

Estelle TAYLOR

Ida Isabella TAYLOR

Arty M TAYLOR

Ella L TAYLOR

Unnamed Infant

Minnie TAYLOR

Otis O TAYLOR

Olley Lee TAYLOR
Just as in the history of his brother Robert, in 1850 James and his family were farming in Newberry Co., SC. He lived next to his brother Robert, also farming. Sometime between 1853 and 1860, James and his family moved to Columbia Co., FL. His brother Robert and his sister Viney also moved to nearby farms in Columbia Co. Henry was born in SC, and Oscar and the rest were born in FL.
In 1863, he enlisted in the Confederate Army, and was a corporal. During the war he was wounded two times and was taken prisioner during the final days as Lee's army was retreating toward Appomatox Court House. He was held at Newport News, VA and paroled a month later. Henry also served in the Confederate Army in the Home Guards.
James lived in Columbia Co. until his death in 1903. Emily died in 1927 and is buried beside him at the Pleasant Grove Cemetery.



When you click on the above icon, you will see the photos stored with Picasa Web Albums. You don't need any software to view them.
The Web Album shows you a view of all of the photos in thumbnails. You can double click on each one to see individually and you may select "Fullscreen" to see maximum size. From the individual view you can browse through the images as well using the control arrows shown. You may select also slideshow mode. You can download any photos you want individually by selecting "Download" and "Download Photo" .
Picasa has free PC software that helps to manage photos on your PC and connects to and manages the Web Albums those you store online. You can get the free software at: http://picasa.google.com/ It's a pretty good tool, even if you just use it for managing the photos on your PC. If you have Google's Picasa on your PC, you may download the entire album to your PC with one command. Just click on "Download" and "Download to Picasa." You'll then have a copy of the entire album in a folder on your PC.
The names in brackets [ ] give the generations.
Please help identify persons below or correct my misidentifications.
© 2002-2010 Miller Taylor. All Rights Reserved.