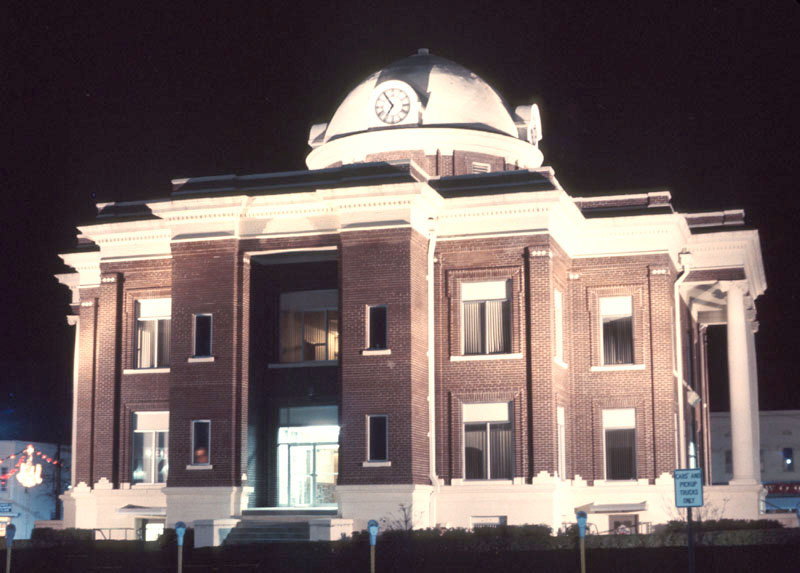 Dyer County Courthouse
The thirteenth in the series of Taylor Triangle reunions will be held in Dyersburg, Tennessee on Saturday, June 19, 2010. We hope that you can come. Dyer County is the center for the Tennessee portion of the Taylor clan. It's the area I came from. Isabella, Israel, Noah, and two of Robert's children lived there. Isabella went to Dyer County from Newberry with her husband Simeon Hawkins after Simeon's father moved there. Noah and Israel came later and settled in the area. James Stanhope Taylor, and Thomas Taylor, sons of Robert came and settled later, since relatives were already there.
We expect a good attendance from locals, but we are also expecting several of the Hawkins descendants from California to visit as well.
Basic Information:
Date: Saturday, June 19, 2010
Time: 10:30 - ?
Location: Dyersburg Activity Center
1101 Shelby Drive
Dyersburg, Tennessee
Tour: After the reunion a tour of family related sites in the Dyersburg area will be held for those
interested.
I will be staying at the Holiday Inn Express. . Just call 731-286-1021 and say that you are with the Taylor reunion in June 2010. The price is $85 for a standard and $95 for a king or double. Be sure you mention you are with the Taylor Reunion. That way you not only get the special rate, you get counted in the group rooms for the reunion.
As has become a tradition with these reunions, there will be informal get-togethers at the main motel on Friday and
Saturday evenings. Locals are highly encouraged to join the out-of-towners at the motel. These informal get-togethers have become one of the highlights of the reunions.


Other Hotels:
Dyer County General Information
Dyersburg/Dyer County Chamber of Commerce - Site promoting the area, commercially oriented, other general information.
Dyersburg Scene Website - A collection of information about Dyersburg: current events, shopping, etc.
City of Dyersburg - Website of Dyersburg city government.
State Gazette - Oldest Dyersburg newspaper.
© 2002-2010 Miller Taylor. All Rights Reserved.