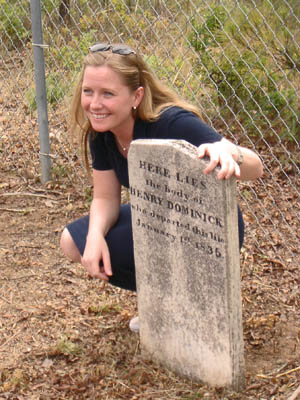 Lou Ann Waldrop at Henry Dominick's Grave at 2002 Reunion
The eleventh in the series of Taylor Triangle reunions will be held in Stoney Hill near Newberry, SC, June 25, 2005. We hope that you can come. Newberry County is the home place for our clan, since this is where William settled after coming from Ireland. All interested descendants should make the pilgrimage to Newberry at least once. I hope you can come. In 1996, we had representatives from all eight of William's children together for the first time in 150 years. I hope we can repeat that this time.
It will be held at the Stoney Hill Community Center just outside of Prosperity, down the road from Newberry. Stoney Hill, also called Stoney Battery, is the community where William had his house and his children lived before some left for Florida or Tennessee. It is also the point of origin for our Hawkins kin. It's at 2984 Stoney Hill Road, just 2.9 miles from the William Taylor homeplace.

The reunion will begin at 10:30 with a pot luck lunch at approximately 12:00. In the afternoon, after the reunion winds down, a tour will be held of sites relevant to family history. These will include the site of William Taylor's house, the sites of some of his children's houses, the burial places for Henry Dominick, Ann, and George.
While the reunion is near Prosperity, we will still be staying in Newberry. Newberry is close, is a very nice town, and Prosperity doesn't have the accommodations. I have made arrangements with the Hampton Inn Newberry Opera House and reserved a block of rooms. The hotel is downtown and is very nice. They gave us a rate of $79 with no additional charge for additional persons. To book a room, be sure and call the hotel directly (1-803-276-6666) and say that you're booking a room for the "Taylor
Reunion". It's important you book this way. Also, It's advised to book early, since the Ms. South Carolina pageant is in Newberry the same day as the reunion. I had to change from the original hotel because of lack of rooms.
William S (Sam) Taylor is providing local help and support in the Newberry area. He arranged for the Community Center and is helping in many other ways. His help is greatly appreciated.
Check here for updates.


Motels:
Middle priced. In town, but not downtown.
Economical at the interstate
Hampton Inn Newberry Opera House
New, nice, and downtown, where I'll be staying
Economical at the interstate.
Newberry Economy Inn
2721 Winnsboro Rd (803) 276-2212
Budget Inn
384 Wilson Rd (803) 276-2410
Additional Newberry Information:
© 2002-2010 Miller Taylor. All Rights Reserved.