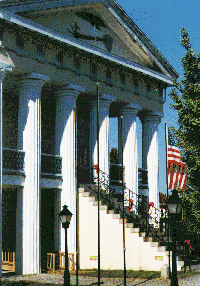 Newberry Community Hall
The eighth in the series of Taylor Triangle reunions will be held in Newberry, SC, June 22, 2002. We hope that you can come. Newberry is the home place for our clan, since this is where William settled after coming from Ireland. All interested descendants should make the pilgrimage to Newberry at least once.
It will be held at the Newberry Community Hall at the intersection of Main and McKibben Streets (see map below). The location is one we used before and has good facilities, including an elevator. It is also an appropriate site for family history, since it was previously the Newberry County Court House.
The reunion will begin at 10:30 with a pot luck lunch at approximately 12:00. In the afternoon, after the reunion winds down, a tour will be held of sites relevant to family history. These will include the site of William Taylor's house, the sites of some of his children's houses, the burial places for Henry Dominick, Ann, and George. These will all be in the Stoney Battery section, south of Prosperity.
I sent postcards in March to those on my address list advising them of the time of the reunion, asking them to reserve the date on their calendars and telling that detailed information will come out later. On May 15, I sent out a multi-page, detailed set of information. All information that is sent out and more is posted on this page.
Check here for updates.


Motels:
Where I'm staying. Middle priced. In town, but not downtown.
Economical at the interstate
Hampton Inn Newberry Opera House
New, downtown, and premium priced
Economical at the interstate.
Additional Newberry Information:
© 2002-2010 Miller Taylor. All Rights Reserved.