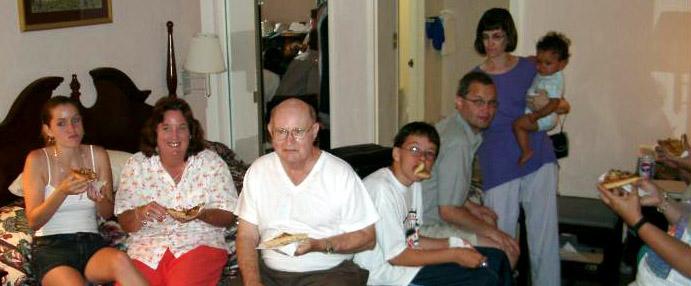 Pizza in Room Saturday Night
The eighth in the series of Taylor Triangle reunions was held in Newberry, SC, June 22, 2002. It was held in the Newberry Community Hall. This hall was the courthouse from 1852 until the current one was built. Many of the out-of-towners stayed in the Holiday Inn Express. Boyd Bedenbaugh and William S. (Sam) Taylor provided considerable assistance with the local arrangements.
The reunion had a smaller attendance than some earlier ones, but it made up for numbers with enthusiasm. Seven of the eight children of William and Elizabeth were represented by descendants. Only Israel was not represented, and his descendants are normally regular attendees. Isabella was represented by a substantial group from California, Texas, and Tennessee. Much of the fun occurred at events other than the actual reunion meeting.
I arrived on Thursday and visited with Boyd Bedenbaugh, William S. (Sam) Taylor and Boyd's family. We dined that evening with them at El Jalisco Mexican Restaurant. Sam and I did a dry run of the tour on Friday morning. Returning to the motel, Sam and I started reviewing documents and made some exciting discoveries. From one particular document we discovered that Robert's middle initial was "T", that Margaret Anna was called "Peggy Ann" by her father, and that she had a sixth child that apparently died before 1850. Sam and I then went to do some of the setup of the hall.
Things really began in earnest as out-of-towners began arriving Friday afternoon. This resulted in numerous impromptu gatherings in rooms and in passages outside rooms. This has become a reunion tradition. Friday evening a group went to Shealy's Restaurant in Batesburg to try a popular local restaurant and to sample the regional specialty, mustard barbeque. Since some of the Hawkins group had not arrived when the party left, they went to another restaurant in Newberry.
The reunion was on Saturday and consisted of the usual meeting relatives, chatting, studying descendancy charts, viewing photo albums, and eating too much. The hall was a good, comfortable location to have the reunion and gave us plenty of space. Its historical nature was also appropriate for a family history event such as this. The traditional pot luck provided ample amount of delicious food.
After the reunion, many went on a tour of family history sites, largely home sites, churches, and cemeteries. The sites are located in the Stony Hill area south of the town of Prosperity. The tour handout is included here. The group assembled at the square in Prosperity and caravanned from there. Thanks to Sam's work with a tractor and mower, we were able to get to Henry Dominick's cemetery easily.
That evening, most of the out-of-towners and some of the locals congregated at the motel. When everyone became hungry we sent out for pizza. The gatherings started out in the rooms and migrated to the lobby. These went on until everyone crashed from exhaustion.
On Sunday morning, those still there visited around the motel at breakfast and out front. Some of the group attended church at Zion Methodist Church, one of the ancestral churches for the family. By noon the remaining people headed back to their homes, declaring that this had been one of the best. If you were unable to attend, you were greatly missed.



When you click on the above icon, you will see the photos stored with Picasa Web Albums. You don't need any software to view them.
The Web Album shows you a view of all of the photos in thumbnails. You can double click on each one to see individually and you may select "Fullscreen" to see maximum size. From the individual view you can browse through the images as well using the control arrows shown. You may select also slideshow mode. You can download any photos you want individually.
Picasa has free PC software that helps to manage photos on your PC and connects to and manages the Web Albums those you store online. You can get the free software at: http://picasa.google.com/ It's a pretty good tool, even if you just use it for managing the photos on your PC. If you have Google's Picasa on your PC, you may download the entire album to your PC with one command. Just click on "Download" and "Download to Picasa." You'll then have a copy of the eitire album in a folder on your PC.
The names in brackets [ ] give the generations.
Please help identify persons below or correct my misidentifications.
© 2002-2010 Miller Taylor. All Rights Reserved.