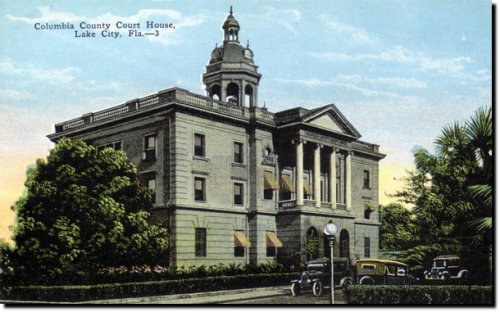 Columbia County Court House ca. 1930
(Postcard Courtesy State Archives of Florida)
The twelfth in the series of Taylor Triangle reunions will be held in Lake City, Florida on Saturday, June 10, 2006. We hope that you can come. Columbia County is the center for the Florida portion of the Taylor clan. Robert, James, Viney, and Ann went Columbia County in the 1850's with Ann returning to Newberry County. Noah, who had gone to Dyer County, Tennessee, moved to nearby Bradford County in the 1870s. I expect a good attendance from locals. It will be a great time to combine a reunion visit with a beach vacation or a trip to Disney World.
Basic Information:
Date: Saturday, June 10, 2006
Time: 10:30 - ?
Location: First Presbyterian Church of Lake City
697 SW Baya Ave.
Lake City, Florida 32056
Tour: After the reunion a tour of family related sites in the Lake City area will be held for those interested.
Church: Pleasant Grove Methodist Church
The luncheon at the reunion will be different this time, but we have done this once before. Helen Craft and Norma Horton have volunteered to prepare the noon meal at the reunion for only $5 per person 12 years of age and older. They plan to grill hotdogs and hamburgers and provide side dishes such as baked beans and potato salad along with dessert, drinks, and utensils. What a deal! We should come out ahead on this at the expense of their hard work. All you have to do is come and visit.
As has become a tradition with these reunions, there will be informal get-togethers at the main hotel. These will largely be on on Friday and Saturday evenings, but some of us get together on Thursday night. Locals are encouraged to join the out-of-towners at the motel. These informal get-togethers have become one of the highlights of the reunions.
The headquarters hotel will be the Holiday Inn and Suites in Lake City. This is the new hotel that replaced the one we used before. It is a very nice hotel and we have a great arrangement. We have a block of rooms for the reunion at a special rate ($89). They are clustering the rooms on the 6th floor around the Presidential suite, which we will use as a get-together room. Helen Craft and Norma Horton will be providing snacks in the suite as they did before in Lake City. Important- To reserve a room, call 386-754-1411 and ask for the Taylor Family Reunion. Don't reserve by any other method. If you reserve by any other means, you won't get the special rate, you won't be located in the cluster, and we won't get the room counted in the block we've reserved.
Clicking on the link below will activate full pan and zoom map


Motels:
Metro Travel Guide Motel Listing for Lake City
Columbia County General Information
Lake City Reporter - This is the daily newspaper for Lake City, the county seat.
Lake City Online - General Information Web site for Lake City.
Columbia County Online - Government related Web site for Columbia County
© 2002-2010 Miller Taylor. All Rights Reserved.