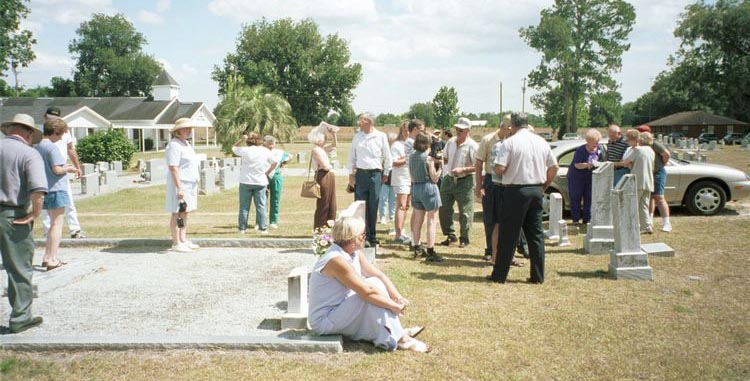 Tour Group at New Providence Church
The 2000 Columbia County reunion was actually held in Union County. We met on Saturday, June 10 at the Worthington Springs Community Center in Worthington Springs, FL. It was hosted by the family of Russell Thomas Taylor Junior, grandson of Noah by his second wife Cordelia. Russell's family made all of the arrangements and the arrangements were very good.
Most of the out-of-towners stayed in Lake City. The Holiday Inn became the center where locals, as well as out-of -towners congregated. We had a hospitality room reserved there, and Russell's family stocked it with snacks and beverages. On Friday evening, the cousins congregated there and hugged, talked, and looked at photos and documents.
On Saturday, everyone went to the Community Center for the day's events. About 80 people attended the reunion from the Southeast and as far west as California. Seven of the eight branches of the Taylor family were represented. Only George's descendants were absent. The largest representation, of course, was from Noah's descendants. Besides the normal visiting at the reunion, a sumptuous catered meal was served by Russell's family, including barbecue beef and fresh vegetables.
A tour back to neighboring Columbia County was held later in the afternoon. Sites covered included burial sites for Noah, James, and Viney; Viney's house; and the location where Robert lived. The tour guide document is included here.
On Saturday night we had a marvelous time back at the hospitality room. A large group gathered filling the evening with animated conversation, great fellowship, and food.



When you click on the above icon, you will see the photos stored with Picasa Web Albums. You don't need any software to view them.
The Web Album shows you a view of all of the photos in thumbnails. You can double click on each one to see individually and you may select "Fullscreen" to see maximum size. From the individual view you can browse through the images as well using the control arrows shown. You may select also slideshow mode. You can download any photos you want individually.
Picasa has free PC software that helps to manage photos on your PC and connects to and manages the Web Albums those you store online. You can get the free software at: http://picasa.google.com/ It's a pretty good tool, even if you just use it for managing the photos on your PC. If you have Google's Picasa on your PC, you may download the entire album to your PC with one command. Just click on "Download" and "Download to Picasa." You'll then have a copy of the eitire album in a folder on your PC.
The names in brackets [ ] give the generations.
Please help identify persons below or correct my misidentifications.
© 2002-2010 Miller Taylor. All Rights Reserved.