One thing has been striking and startling in my visits with newly-found cousins: the genetics of the Taylor line comes through. I don't know whether it came from the Taylors, the Dominicks, or both; but many Taylors who grew up totally apart from each other share facial characteristics. This happens across the Taylor lines. Cousins from James' family look like cousins from Noah's family.
On this page I will show some photographic examples of these cousins who, in spite of geographic and family branch differences, share common characteristics. In some cases, the pictures appear to be of the same person, but in others it's only similarities in appearance. Frequently, characteristics will appear in different combinations, giving the situation: "He appears like Uncle Fred except for the nose." That nose, a very large and prominent honker, pops up all across the lines. High cheek bones are also a common caracteristic.
Another mixing factor is height. When I visited Noah's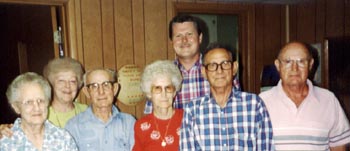 grandchildren for the first time in Florida in 1995, they looked like the cousins I knew, but not as tall. The picture at the right of that first meeting illustrates that well. When Fred Boatright of Arcadia and I first met, after looking me over, he said, "One thing that puzzles me is that you're tall and most Taylors are short." It seems that the Taylor line is not a tall one, but genes come in from outside. In my case, that's exactly it. My grandfather Taylor was not tall, but his wife was a strapping six feet. That's where I got my 6 foot 3 inch height.
I'll start with my grandfather Thomas Carter Taylor and his Uncle Noah Taylor.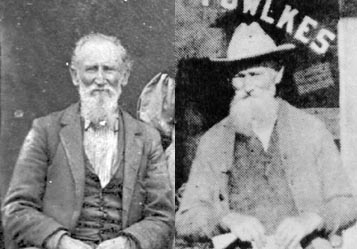 Noah Taylor
and his nephew
Thomas Carter Taylor (Robert-Thomas)
Noah went from South Carolina to Tennessee then to Florida. Thomas was born in Lake City, Florida, and moved to Tennessee about the time Noah moved permanently to Florida.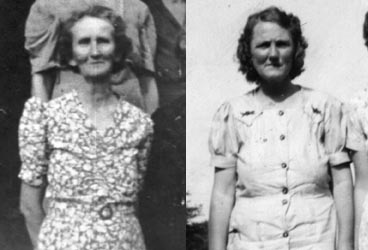 Mattie Taylor Summers (Noah - Mattie)
and first cousin once removed
Tommie Taylor Dunivant (Robert - Thomas - Tommie)
Mattie, child of Noah's second marriage grew up in Bradford County, Florida. Tommie grew up in Dyer County, Tennessee. They probably never knew each other.
© 2002-2010 Miller Taylor. All Rights Reserved.